Vol 4, August 1, 2018
New USA SDF Market Entry
We have fielded questions about the launch of a new silver diamine fluoride product into the U.S. market. This note provides background and comparisons to Advantage Arrest® Silver Diamine Fluoride 38%. We welcome competition as a means to expand market knowledge and utilization of silver diamine fluoride for prevention in the United States.
Riva Star® from SDI Limited of Australia recently received FDA 510K marketing clearance as a tooth desensitizer. This is the same marketing clearance granted to Advantage Arrest. Neither product has FDA approval to market as a drug for caries prevention. Having fielded many questions on the topic, we are using this Silver Bulletin, directed at users of Advantage Arrest, to explain the differences in off-label use of the two products for caries control and prevention.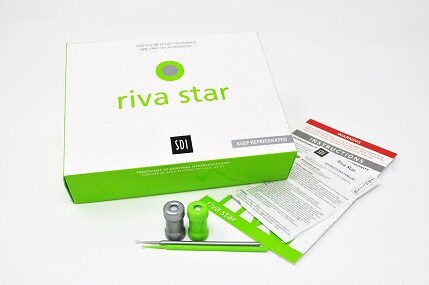 Pre-launch communication for Riva Star has promoted "Next Generation SDF Without The Staining." Dr. Graham Craig, the developer of Riva Star, along with Drs. Hien Ngo and Geoffrey Knight, explains in the linked YouTube video the background of the product. Riva Star was developed for the purpose of treating residual caries in vital permanent posterior teeth where total removal would risk a pulp exposure. Use on primary teeth was not considered at that stage. Non-staining can only be accomplished by meticulously following the instructions he describes in the video. The non-staining method requires a technique-sensitive approach including establishing a sound rim of enamel and outer dentin. Following SDF application, the lesion is treated with applications of the potassium iodide (KI) component, followed immediately by a glass ionomer restoration (or sandwich restoration along with resin composite). Because of these requirements Riva Star (pH of 13) has a different chemistry than Advantage Arrest (pH 10).
Also of note, the Riva Star instructions carry the following language:
Warning: Due to potential staining, it is recommended that esthetic zone teeth not be treated. The material could stain if incorrectly used. Patient must be informed of this risk prior to its use.
Dr. Craig sees no point in using Riva Star over conventional SDF for pediatric patients. It can be difficult to carry out the necessary procedures on a young patient and, regardless of this, there is a tendency for an overlying restoration to become stained with time. Furthermore, if used on open carious lesions in primary teeth, staining can be expected.
To view Dr. Craig's Video, click here or view below.
Other notes: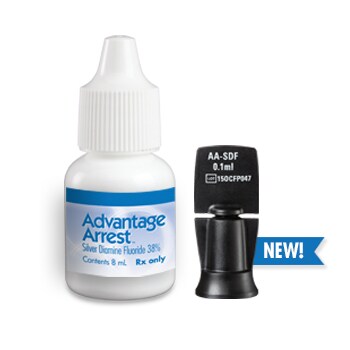 Both products are 38% silver diamine fluoride solutions, with the pH difference noted above.

Riva Star requires refrigeration.

Advantage Arrest does not.

Riva Star has a two-year shelf life.

Advantage Arrest has a three-year shelf life.

Riva Star is a clear liquid. Advantage Arrest is tinted blue for enhanced placement visualization.

Riva Star is available through U.S. dental distribution only.

Advantage Arrest is available through Elevate Oral Care only.

Riva Star is available in unit-dose packaging only, in a kit containing ten components each of SDF and KI, with applicators for ten patient applications.

Advantage Arrest is available both in an 8mL bulk bottle (250 - 0.03 ml drops) for up to 250 patient applications and a thirty-count unit-dose ampule kit, with applicators for 30 patient applications.

Each individual unit-dose of Riva Star contains 0.05 mL of SDF.

Each individual unit-dose of Advantage Arrest contains twice that amount, 0.1 mL of SDF.

Riva Star pricing (as of July 2018) will vary among distributors

, with observed pricing ranging from $96.99 to $107.00 depending on tax and office handling/shipping agreements with distribution partners.

Thus, Riva Star ranges from $9.70 to just under $10.70 per use.

Advantage Arrest cost per use ranges from 65 cents a drop from the 8 mL bottle to $4.08 per unit-dose ampule.

That puts Riva Star price per use about 15 times higher than the bulk bottle version of Advantage Arrest (a drop) and 2.5 times higher than the unit-dose option.

CDT code

D1354 – interim caries arresting medicament application

, should not be coded for the non-staining technique use of Riva Star since the described technique requires conventional restorative dentistry with tooth preparation and mechanical removal of enamel and dentin.
You can see the Riva Star application instructions and staining warning by clicking the images below.