______________________________________________________________________________________________________
Vol 2, January 22, 2018
SDF on PBS NewsHour
PBS NewsHour in January 2018 contained a 9 minute segment on SDF and its use in dentistry. The segment touched on research, history, use and current standards in dentistry. This may create an influx of patient questions in your office. View the segment by clicking the image below and prepare yourself for any questions.
A new method of treating tooth decay using silver nitrate may make the pain, and expense, of traditional treatments obsolete. Special correspondent Cat Wise has the story.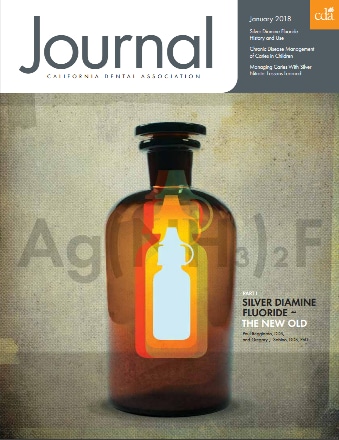 The CDA Journal will release back to back Silver Diamine Fluoride issues
The California Dental Association Journal that published the UCSF protocols for Silver Diamine Fluoride in 2016 has started the year off with another SDF issue (not just an article), and the promise of a second issue next month. Take a look here to see the full text.
Tim Wright DDS MS Silver Diamine Fluoride (SDF) article.
Dr. Timothy Wright wrote an article about the clinical use of Silver Diamine Fluoride. It provides great insight on SDF and various uses for the product. Take a look here to see the full text.
A Second NIH Grant for New York University
Primary prevention, preventing caries from ever happening, should be the goal of every dental practice. Evidence for silver diamine fluoride demonstrates that SDF has preventive power when applied and dried on otherwise sound enamel or dentin. The NIH also thinks it is worth investigating, having just announced a second study on the use of SDF in primary prevention.
Drs. Niederman and Ruff, recipients of the $13.4MM PCORI study to evaluate SDF+FV (simple technique) against Sealant+FV (Complex technique) in NYC schools, are reproducing this same study in rural New Hampshire with funding just announced ($3.6MM) from the National Institute of Minority Disparities.
The announcement stated:
In the NIH-funded study, the New Hampshire schools will be selected at random to receive either the "simple" treatment of silver diamine fluoride and fluoride varnish, or the "complex" treatment of sealants and fluoride varnish. The simpler method takes six minutes to deliver, compared to the more complex method that takes 20 minutes. All children will receive the same preventive dental care twice each year.

The researchers will assess oral health to compare the outcomes of both treatments. The researchers expect that both treatments will be similarly effective in reducing untreated cavities. However, for the same time and cost, nearly four times more children can be treated with the simpler prevention. Therefore, if the simpler, less expensive strategy is found to be as effective as the more complex, more expensive method, the findings could support clinical and policy changes.
Early Adopters...
Those offices who initially purchased Advantage Arrest SDF from us may want to review the bottles you have on hand. It's fast approaching 3 years since our launch which means those first bottles in the market are close to expiration. Now is the time to re-order, and perhaps try our new Unit-Dose Advantage Arrest package for extra asepsis and convenience.
CDT Code Changes to D1354
In 2016 and 2017 the D1354 code was used to document the use of SDF and silver nitrate for the arrest carious lesions. The code was per application and did not specify per site or per tooth.
In January of 2018 the code nomenclature was modified to include, "per tooth." This means insurance providers and clinicians will document this code per tooth and we anticipate reimbursement to adjust with this change. We are unsure of what will happen in all cases so please check with insurance providers.
SDF Research Continues to Expand - and you can help.
Many of you know Dr. Jeremy Horst from his work on Silver Diamine Fluoride at UCSF and his California Dental Journal Article on its use. He and his research partner Dr. Jong Seto are continuing to work on Silver Diamine Fluoride and its expanded uses. However, much of their work requires funding to continue. Please visit their gofundme site and if possible donate to help support their work and expand the knowledge base on this evolving chemistry.
Caries Risk Assessment CDT Codes.
Caries risk assessment codes were introduced in 2014. Though not yet universally adopted we are seeing a movement among third party insurers to require risk assessment codes for enhanced recall, preventive and restorative patient benefits.
Our team of field and e-based Preventive Care Consultants are ready to help your office understand and implement these new codes into your practice. Just click
here to schedule a staff meeting
with us and we'll walk you through it.
D0601 Caries risk assessment and documentation, with a finding of low risk
D0602 Caries risk assessment and documentation, with a finding of moderate risk
D0603 Caries risk assessment and documentation, with a finding of high risk
The American Academy of Cariology is formed.
The United States have been home to some of the greatest caries researchers and leading caries preventive technologies in years past. However, the professional organization of these researchers had been members of offshoot groups of the ADA, CDA or other professional organizations. This past year, that changed. The American Academy of Cariology (AAC) was formed to unify these researchers and developers into one dedicated team of understanding and preventing the most prevalent disease today.
They've scheduled the 2018 Annual Meeting for August 16th, 2018 in Denver, Colorado, the day before the National CaMBRA Coalition.Visit the AAC at their site here, and become a memberand plan your attendance to the meeting!
See the full press release here!
Staff Meetings & Webinars with CE
We can provide AGD continuing education hours, information on the latest products (even if they aren't Elevate Oral Care's) and the latest preventive techniques and practices such as CaMBRA. If we don't have a Preventive Care Consultant in your area, we'll conduct a webinar and send samples before-hand so you can experience them as they are discussed. Either call us at 877-866-9113 or click here to schedule a staff meeting.
New Elevate Oral Care Products
We continue to develop new helpful products for your dental practice. Our latest introduction is Salted Caramel flavor FluoriMax 2.5% NaF Varnish. Now the least expensive, thinnest, and most versatile varnish is available in three great flavors.
We are also launching a new flavor of FluoriMax 1.1% NaF Dentifrice; Spearmint! This flavor will have 5% potassium nitrate added so it will work well to treat dentinal hypersensitivity as well as your moderate to high risk caries patients. Ask your Preventive Care Consultant about it today!
______________________________________________________________________________________________________
Other Silver Bulletins can be seen here: