______________________________________________________________________________________________________
Vol 3, April 6, 2018
Santa Clara County Dental Society releases a great SDF summary in The Cutting Edge
Dr. Eleni Ellenikiotis has written a great summary of the current information on Silver Diamine Fluoride and published it in the Santa Clara County Dental Society publication. The article can be seen here. Be sure to visit the Santa Clara County Society page here as well.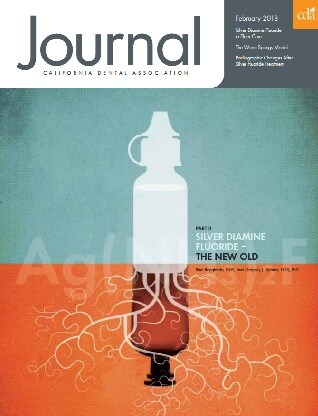 The CDA Journal released the second of two Silver Diamine Fluoride issues
The California Dental Association Journal that published the UCSF protocols for Silver Diamine Fluoride in 2016 has released the second of two issues packed with SDF information. Take a look here to see the full text.
Early adopters...
Those offices who initially purchased Advantage Arrest SDF from us may want to review the bottles you have on hand. It's fast approaching 3 years since our launch which means those first bottles in the market are close to expiration. Now is the time to re-order, and perhaps try our new Unit-Dose Advantage Arrest package for extra asepsis and convenience.
SDF research continues to expand - and you can help
Interested in a non-staining SDF, and/or restorative materials that contain and release SDF? Dr. Jeremy Horst and his research partner Dr. Jong Seto are continuing to work on Silver Diamine Fluoride and its expanded uses. However, much of their work requires funding to continue. Please visit their gofundme site and if possible donate to help support their work and expand the knowledge base on this evolving chemistry.
SDF symposium with clinical experts
If you're interested in learning more about SDF from the clinical experts, there's a symposium at McGill University in Montreal on May 5, 2018 that you should attend. Some of the greatest SDF minds will be present including Dr. Graham Craig, Dr. Jeanette MacLean, Dr. Ali Attaie, Dr. Nabil Ouatik and Dr. Hemaseh Nasseh.

Gain an understanding of the basis for silver mediated dental therapy approaches in dental medicine with an emphasis on Silver Diamine Fluoride (SDF)
Learn to identify appropriate patients and properly diagnose and treatment-plan SDF and SMART treatment modalities
Learn about the procedures and protocols in the clinical setting utilizing SDF and SMART modalities with a review of clinical case and common successes and failures.
Click here to learn more, or click here if you'd like to register!
SMART restorations and Silver Diamine Fluoride
Dr. Doug Young of the University of Pacific is leading a FREE webinar live on April 26th at 7:00 pm Eastern about Silver Modified Atraumatic Restorative Therapy. Reserve your seat to Learn About SMART by clicking here.
You asked for it; the AAPD responded
We've received countless requests for patient literature on Silver Diamine Fluoride, it's use and what patients can expect if they choose it as a treatment. The American Academy of Pediatric Dentistry has created a fantastic patient brochure that meets this need. You can view it here, and contact the AAPD for reprints!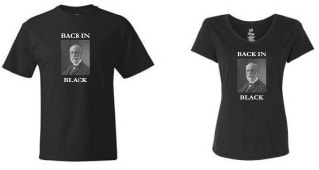 Back In Black - supporting access to care
G.V. Black and various others wrote about the use of silver materials in dentistry to treat disease over a century ago. We're going back to these roots and at the same time supporting access to care charities. Purchase a Back In Black T-Shirt and all proceeds will go toward a charity dedicated to improve access to care (AAPD Healthy Smiles Healthy Children & Children's Dental Health Project).
Staff meetings & webinars with CE
We can provide AGD continuing education hours and information on the latest products (even if they aren't Elevate Oral Care's). We can also provide details on the latest preventive techniques and practices such as CaMBRA. If we don't have a Preventive Care Consultant in your area, we'll conduct a webinar and send samples beforehand so you can experience them as they are discussed. Either call us at 877-866-9113 or click here to schedule a staff meeting.
New Elevate Oral Care products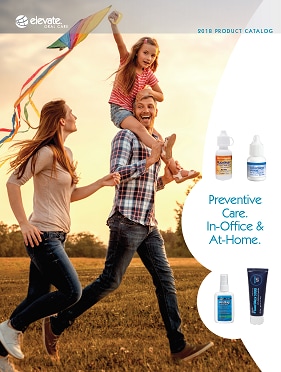 We continue to develop new helpful products for your dental practice. Our latest introduction is Salted Caramel flavor FluoriMax 2.5% NaF Varnish. Now the least expensive, thinnest, and most comfortable varnish is available in three great flavors. Plus, your patients will notice and thank you for changing away from traditional sticky, messy options.
We also just launched a new flavor of FluoriMax 1.1% NaF Dentifrice; Spearmint! FluoriMax 5000 Spearmint contains 5% potassium nitrate added so it will work well to treat dentinal hypersensitivity as well as protect your moderate to high risk caries patients. Ask your Preventive Care Consultant about it today!
Soon, we'll also have a 5000 ppm Fluoride toothpaste that will deliver a pea sized dose called Just Right 5000 in a great tasting Bubble Mint Flavor. The perfect prescriptive option for your moderate to high caries risk pediatric patients.
Another thoughtful new product from your preventive care leaders at Elevate Oral Care.
______________________________________________________________________________________________________
Other Silver Bulletins can be seen here: