FluoriMax™ 5000 Toothpaste - Vanilla Mint - Case of 24 Twin-Pack Boxes
You really can get more for less.
What do patients really want in a prescription strength fluoride toothpaste? Great protection against caries and a great flavor. FluoriMax 5000 ppm fluoride toothpaste:
has an optimized pH for fluoride uptake
provides higher fluoride uptake than Clinpro™ 5000, Prevident® 5000 Booster Plus and Prevident 5000 Plus(1)
contains 10% xylitol
is available in single (3 month supply) tube or a Twin-Pack (6 month supply) package for continuous therapy between appointments
comes in vanilla-mint or spearmint (sensitivity version) flavors
packaged in an air-travel, TSA-compliant, 3.4 oz tube, for uninterrupted therapy
If you currently write prescriptions for 5000 ppm fluoride toothpastes, read here why your patients might not like that option!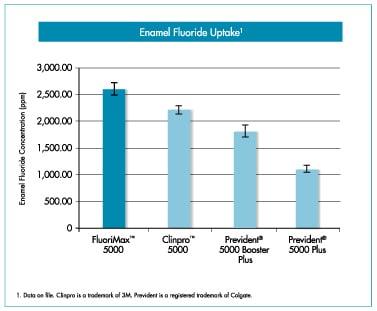 It's everything you want in a prescription fluoride toothpaste... and nothing more.
Get free patient brochures with a purchase
here
.
1. Data on file.