Stop Toothpaste and Money From Going Down The Drain.
Just Right™ Fluoride Toothpaste keeps your child from wasting toothpaste, keeps you from constantly cleaning up a messy sink and it saves you money too!
The Just Right™ metered dose pump provides a pea-sized dose (~.25 gram) of fluoridated toothpaste with a single push of the pump. It's the amount of toothpaste recommended by the American Dental Assocition and the American Academy of Pediatric Dentistry to fight cavities while minimizing the risk of white spots, known as fluorosis, that can appear when children use too much toothpaste.

Each Just Right™ Fluoride Toothpaste pump dispenser lasts six months.
You can purchase individual Just Right pump dispensers or try our Just Right 6-Month Anticavity Kit. The kit contains one pump dispenser and two specially designed Just Right™ Toothbrushes with a kid size, soft bristle brush head and a large size handle. They are easy for you and your child to hold while learning how to brush. The two kids brushes help insure that their toothbrush is changed every 3 months, following the recommendations of the American Dental Association.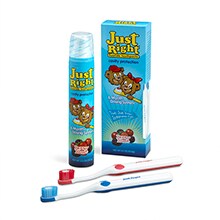 Watch a day in the life of a toddler that ends just the right way.